Last weekend saw Shakey and I heading down to Coed-y-Brenin for the second round of The Fetish Bikes UK Gravity Enduro. The weekend was a total contrast to round one in both trails and the weather.
Saturday - Practice and Seeding
Our journey down was under grey skies but there was little rain. After a slight delay caused by trying to find somewhere for breakfast when we discovered our usual stop off was closed down; we arrived at a busy car park at about 10.30. The ground was damp but the skies were beginning to clear to blue.
As we got the bikes out of the van various passing people we know from biking in general and previous races stopped to chat and catch up and start the banter. The usual friendly atmosphere was there and everyone was smiling.
When we were ready we headed up to sign on and have a quick look at the course map. It consisted of parts of the trail centre trails: three stages across the road on the Tarw trail and two on the visitor centre side. We didn't really study the detail and headed down to the start of the Tarw trail to go and try the first three stages.
After we crossed under the road we stopped for Shakey to pump up his rear tyre. His posh looking Lezyne pump screws, rather than pushes on to the valve. Twice he pumped and then let all the air back out when he unscrewed the pump and the valve core with it! Obviously I gave a quick verbal review of his shiny little pump before lending him my far less aesthetically pleasing but effective Toppeak!
The climb to stage 1 was gentle fire road and not too long. The stage was "R74" from the Tarw trail which starts off fairly nicely before becoming very pedally with one particular nasty little rocky climb. The rocky surface was wet but there was plenty of grip. It would just be hard work and mostly seat up when racing it.
The stage finished back where Shakey had been pumping. We headed off following the signs and a small group of riders towards stage 2. After a quite a bit of tarmac the group in front stopped. We did so too as it appeared we were lost! More riders were arriving behind us too... Re-tracing our steps we spotted a sign on a fire road a few yards off the tarmac. There wasn't a sign telling us to turn off the tarmac though! Back on course the climb was the usual steady one for the Tarw trail. Shakey's tyre was going down again and he stopped for more pumping. I was now giving him grief for running tubeless without sealant as we had been out for ages and managed one stage! A bit further up the climb he stopped and fitted a tube.
Stage 2 was "Heart of Darkness", "Snap", "Crackle" and "Pop". "Heart of Darkness" was techy and slow. Very tricky to clean at speed. Next was a long, flat out fire road down hill to the rocky fun of "Snap", "Crackle" and "Pop". There were some very obvious "racing lines" on these last three and we stopped near the finish to check our handlebar clearance through two trees on one of these.
Fire road and singletrack took us to Stage 3. The tube in Shakey's tyre was now also looking in need of some air. More pumping ensued while I got the camera out. The sky was clear and the view great! According to the forecast it wouldn't be like that come race time tomorrow.
Stage 3 was long. It started with "Rocky Horror Show" which was flat out fun, then dropped down a loose water damaged double track before turning right and slightly up into "Mantrap" which in turn lead into "Pins and Needles" and on into "Flightpath". I thought "I'll be absolutely knackered racing that in one"!
We headed back across the road to the van so that Shakey could sort his bike out. As well as the slow puncture he had also clobbered his chain device and moved it a bit. We ate flap jack and fettled whilst occasionally glancing across at stage 5 which we were parked near. Lots of people were practicing it and trying to work out how to do the only short piece of off-piste riding in the whole course. It was about 6 metres of soft mud with loads of roots in it. Not many were getting though it!
As Stage 4 was the furthest out I suggested we didn't bother with the long pedal out and back to do it and instead we try a few runs of Stage 5 which was pretty short with a short climb to reach it. It was also the seeding run which we would be racing at about 4pm. Shakey agreed and we pedalled up the 5 minute or so climb.
Stage 5/The seeding run started with "Beginning of the End". It started off fast and flowy with some fun little jumps before some rocky compressions through water splashes before the final rocky sections down to the muddy, rooty off-piste link into a long fire road sprint (uphill to start!) to the finish arena. Shakey and I picked different lines into the mud but neither of us got through it first go. We didn't bother practicing the fire road! We did a couple more runs before retiring to the visitor centre (which was rammed) for a snack and a drink. Shakey got one of the jumps wrong on one of these and provided a comedy moment!
Soon enough it was time to head up the short climb for our seeding runs. We got up the hill with plenty of time to spare and chilled out. Unfortunately we also literally chilled out! I was mid-pack in the vets and started a while before Shakey. Going from cold to flat out, my lungs were proper gasping not far into my run! Everything went ok until the muddy bit where I hit a root and stopped. "F*ck!" I exclaimed loudly. A spectator shouted "don't worry mate they've all done that" and I was off and running to the fire road. Back on my bike the soft going and uphill start to the fire road meant my lungs were at max! I almost cocked up a corner but got to the finish area absolutely knackered! It wasn't long before Shakey joined me in a similar state. He had nailed the muddy section and beat me by 16 seconds. I was happy with 3:19 though.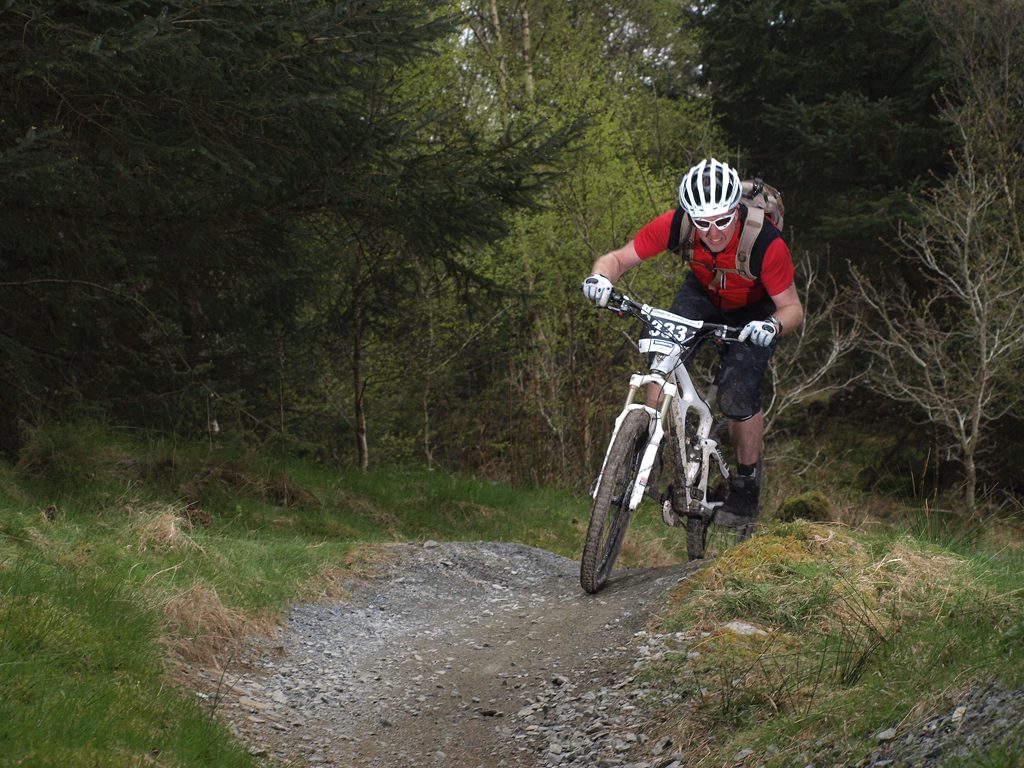 After we got over our coughing fits with the aid of a hot chocolate we cleaned the bikes, changed and watched the Elite's coming through the stage before heading off to our hotel for the night. A shower, a few beers and a good feed saw us off to bed at a fairly sensible hour.
Sunday - The Race
The next morning dawned very grey and as we drove to Coed-y-Brenin the forecast rain started. It was also only 3 degrees according to the van's thermometer! We got ready in light drizzle and then saw Steve Parr who told us not to bother with checking in "just stay warm and head out to stage 1 when you're ready". We made use of the van heater until we guessed it was time to set off.
We made it to the start of the first stage with plenty of time to spare and huddled out of the wind behind an ambulance. As we did so a big branch blew off a tree and landed in front of us! The weather was only going to get worse as the day progressed.
When my start came I launched into the stage and was immediately all over the shop! Hitting technical singletrack without "having your eye in" is always a nightmare. My line choices were terrible but after a minute or so I settled down and pedalled as hard as I could. I forgot where the biggest uphill rock garden was and had to jump off to get over it. Not the best of starts but I had finished it.
I took a moment to get my breath and then set off climbing steadily to stage 2 chatting with my fellow competitors. When we arrived at the top of the climb we didn't have long before we were setting off. I thought the transitions were going to be more generous this race though personally I didn't think they should be? A Grand Veteran turned up having missed his start. The marshal seemed a bit unsure but let him start instead of a missing competitor in our class. The guy on the computer seemed to sort it? I hoped this wasn't going to be the start of another timing mess like the first race?
I got through the slow techy start with a bit of a dab but otherwise ok. On the fire road it was seat up, highest gear and pedal like mad. When I flew into "Snap" I geared down a bit early but I glimpsed the guy in front. I was gaining on him and this spurred me on! I enjoyed the three rocky sections and finished just behind him as I crossed the line.
There was a large group of walkers passing the end of the stage who seemed to like the look of what we were doing? They offered encouragement as we pedalled off to stage 3. Some people decided to stay on the fire roads rather than take the "official" singletrack options of this link stage. Personally I'd rather ride the singletrack and I don't think it sapped my energy much more?
I arrived at the start of stage 3 with much more time to spare (as did everybody else). I sheltered from the increasing rain and wind under a tree and snacked on half a flapjack. I wasn't too cold by the time my start came for "the long one". I pedalled off and loved the fact that the first couple of long sweeping corners were brake free. Before I got to the loose fire road I glimpsed the guy in front again and flew after him. I was enjoying this stage far more than I thought I was going to and wasn't far behind the man in front as we whooped over the paved "Pins and Needles" section. On the last bit of singletrack I'm not sure if I slowed or he sped up but I didn't quite catch him and he seemed to pull away a bit? I arrived at the bottom with a smile and far less knackered than I expected.
Onwards to stage 4 and most people seemed to be taking the obvious short cut through the car park but I decided to stick with the "official" route and ride the rocky singletrack out from the visitor centre. I figured the short cut would lead to more hanging about getting cold? And hey! I'm here to ride singletrack!
I was glad of a shorter wait at the start of stage 4 as the wind and rain were much worse by now. It was horrible waiting to go. I munched a Snickers and wished the minutes away until I could pedal. As I should have learned by now: not pre-riding a stage makes you slower! I figured I might know most of it as it was part of the trail centre routes I have ridden before but it had changed and my memory ain't what it used to be! The trails used were "Cain", a new bermy/jumpy section, "Slated" and "Abel". I seemed to hit every rock I didn't want to on "Cain"? There was no jumping on the jump section as the strong head wind meant I had to pedal the whole section. Exiting this section I ground to a halt and wasted precious time spotting where to go next! "Slated" and "Abel" went well but the climb between the two sapped my legs big time. That was definitely my worst stage. I didn't get a glimpse of the man in front.
Everyone was pushing up the climb after this stage and I joined them. At the top some people were again taking a short cut. Me and a couple of others decided to stick with "official" which was a good move as a short climb brought us to the fun Adams family descents of "Pugsley", "Lurch" and "Uncle Fester". At the bottom we all wished that they had been a timed stage!
One more climb to go and this time I had a slight push on the steepest bit of tarmac along with some of my fellows. We got to the top with plenty of time to spare. The rain was still coming down and everyone took shelter in the trees. This was the longest wait of the day and the scene would have been comical to an outsider. About 50 middle aged blokes were randomly dispersed in the trees dancing and jiggling to keep warm! As our start time came closer everyone was frozen, soaked and just wanting it to be over. Taking a lead from others I jogged and cycled up and down the nearby fire road a few times but I still couldn't feel my hands when I set off racing the stage!
The first fast part of the stage did nothing to warm me up and I couldn't feel my brake levers as I slowed for the muddy section. I had dropped my gears down before I descended the steep section to the mud and as I entered I was set to go. I pedalled and was amazed to get through it without as much as a dab! A spectator shouted "well done" and I was pretty chuffed with myself. Unfortunately I still had the fire road slog to the finish. I upped my saddle and pedalled with what I had left.
At the finish I didn't hang about I just wanted to be in warm, dry clothes. I headed straight for the van and changed immediately. Shakey arrived just as I was finishing getting changed and once he was changed we had a beer with Andy in the van next to us.
The rain was still pouring down so we didn't bother washing bikes or checking the results. It was home time with the heater on full blast.
Overall I enjoyed the weekend. It was tough - mostly because of the weather on Sunday. I heard some moaning from a few people about the stages being too XC/trail centre but I think they were in the minority. The stages were a good test of that type of riding and fitness. Innerleithen was more DH and I'm guessing the other stages will be somewhere between the first two so this series is as good a test of all round mountain biking as there currently is and most importantly it's also good fun!
The good news is that the timing seems to be better this time too and the results are up already. There have been a few adjustments since they first went up but our results look about right.... I hope that is true for everybody. I was dissapointed by the fact that there still seems to be some confusion over what the rules are when someone is late for their start even with the marshalls! Also are shortcuts allowed or not? The last one would be near impossible to police anyway...? The debates go on on Facebook and elsewhere. Let's have these clarified and get on with the racing.
I got 30th in Vets and 137th overall and Shakey got 7th in Vets and 51st overall.
Full results here (select Vetrans in the "Category" drop down and click search to filter to our category)